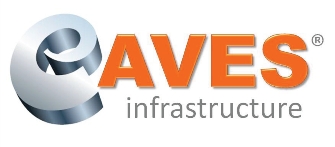 Eaves Infrastructure is a UK subcontract manufacturer of high precision, CNC components. In 2016, the CEO of the company wanted to re-brand the business so he approached Leviosa Consulting to help.
Leviosa conducted a SWOT analysis and identified an opportunity to redesign and align the company logo and brand with the results of a market study that showed both domestic and international clients place a high degree of trust and assurance with UK manufacturers. They associate a 'Made in the UK' product with high quality, on-time delivery and total conformity of supply and material traceability.

Subsequently, Leviosa redesigned the Eaves logo from the orange design, shown to the upper-right, to the design shown lower-right. As an expert in Intellectual Property and Copyright law, Leviosa conducted market due diligence to prevent future IP infringement issues and created the new Eaves logo with a hint of the Union Jack flag.
To the delight of the CEO and business stakeholders, this Eaves re-branding program immediately provided a 'Made in the UK' look and feel for the company, stimulating associated supply 'trust and assurance' emotions to their existing and future clients.
For further information, please contact Alan Roddis at alan@leviosa.in or see www.eavesinfrastructure.com